Motocross has received a lot of attention as the years have gone by, and it makes lots of fans excited when seeing riders speed down dirt tracks. Do you know what is motocross?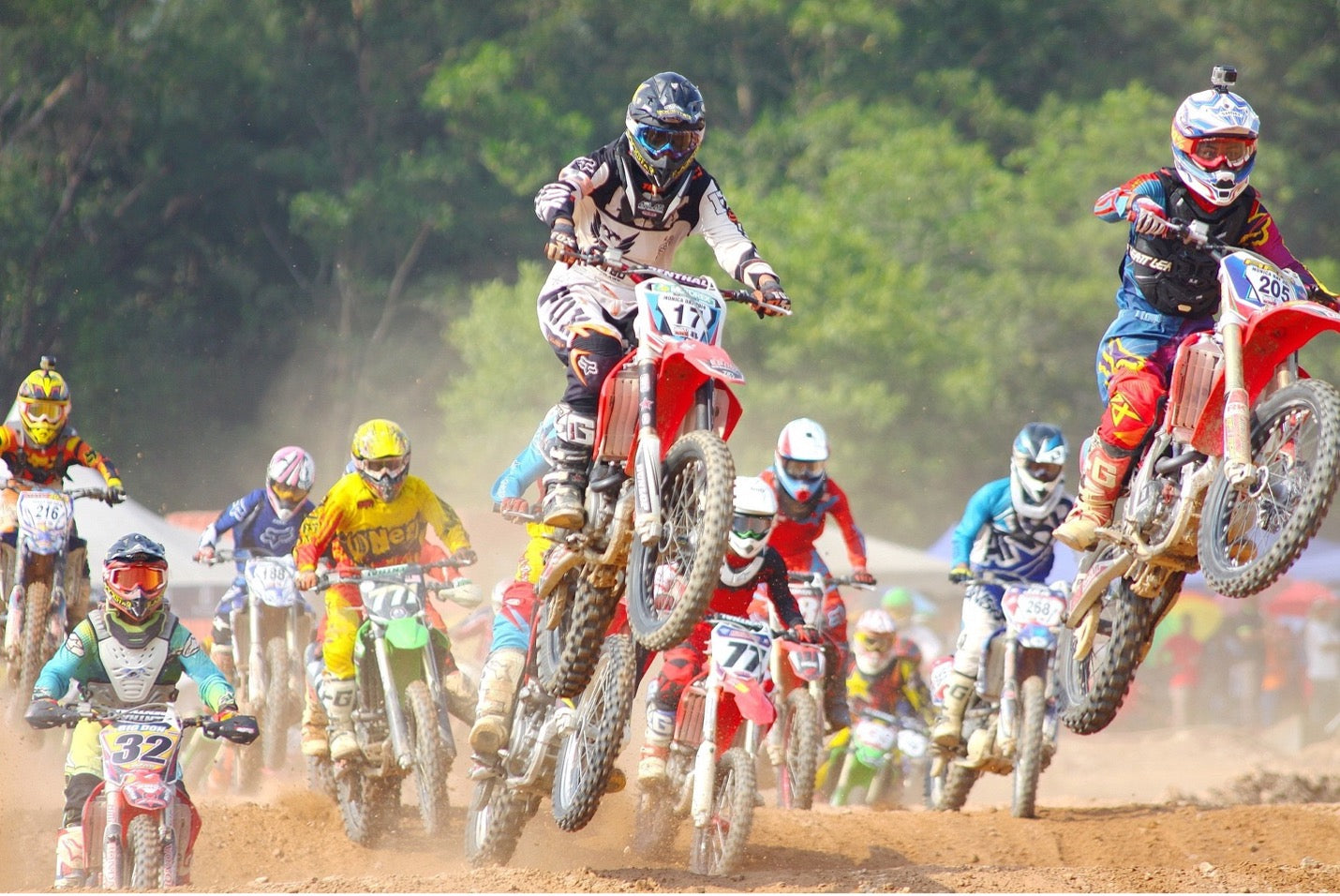 What's motocross?
Motocross is one type of motorcycle racing, in which riders compete on off-road courses on dirt bikes. Riders need to face different obstacles during the racing such as tough hills and sharp turns. Usually, riders' bikes are on off-road tracks which are full of rough terrain, and they need to be very talented to do well in motocross. 
Simply to say, participants race on motorcycles and navigate a course with different types of terrain during racing. When preparing for the race, takes a lot of physical and mental training, and participants need to consider how long the race is and what obstacles they would encounter. 
Usually, the motocross is 1 to 3 miles long and would take less than 2 hours to complete. Different courses would have unique turns and hills, and riders might experience either uphill or downhill in a single race. Therefore, proper riding position, weight distribution, and correct form are important to know before motocross racing.
Besides, jumping is another major aspect of motocross racing. Different style jumps range from table jumps, double jumps, and triple jumps. However, it is risky due to the gap between the takeoff and the landing which might lead to injuries. Therefore, proper skills and bike setups are necessary before committing to larger jumps and gaps.
How did it begin?
Motocross was derived from motorcycle trials in the early 20th century, and it started in the United Kingdom and spread across Europe later. The name "motocross" combines the French word for "motorcycle" (moto) with "cross country." As it is known, the first official scramble was held in Camberley, Surrey in 1924. Then it came to America in the 1960s and gained popularity soon. After that, the American Motorcyclist Association (AMA) started organizing races and held the first AMA Motocross Championship in 1972. Since then, motocross racing has become a massive juggernaut in motorsports.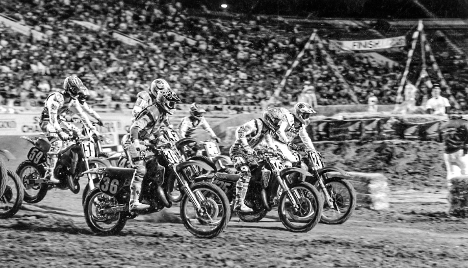 In 1974, the AMA organized the first indoor motocross race which is called supercross. In 1995, it held its first women's motocross championship. Nevertheless, it was considered the "Golden era of motocross" in the last 70s, and it is almost accessible to people of all ages and skill levels. During this time, the technical innovation of swinging arm suspension has made the bike safer and faster for racing. 
Current motocross events
Such popularity pushed the motocross with a new bold image in the 90s when team events became a regular feature of these events. It became associated with punk rock and skate-inspired culture, and every rider looked like a star and personalities became to shine brighter with every year.
The sport is thriving with sponsorship deals bringing the prize money to races and new off-shoots of the original racing concepts. Popular formats such as Freestyle, Supercross, Big Air, and Supermoto can allow riders to show off their skills by performing jumps and stunts.
Several competitions are conducted for the sport, such as the FIM Motocross World Championship, Motocross des Nations, and the British Motocross Championship. Some of its most famous riders you might have heard of are Ricky Carmichael, Jessica Patterson, and Jeremy McGrath.
Want to try motocross for yourself?
Once you want to try motocross for yourself, you need to consider both your physical fitness and the right motocross dirt bike. It is not recommended to have the fastest dirt bike for beginners, since they don't have enough experience to control it well. 
Before deciding on your first dirt bike, try to consider your height, the seat's height, and the difference in the style of riding. If you prefer riding in the woods, endure bikes can be a good choice. Or you may like to do skilled jumps, competition-based bikes are suitable for you.
Usually, a gas-powered dirt bike can reach a higher speed than electric bikes since they have more power. A two-stroke engine bike tends to be lighter and easier to start than a four-stroke engine dirt bike. However, a four-stroke engine bike has more consistent power and provides higher stability than a two-stroke engine bike. Therefore, a gas-powered dirt bike with a four-stroke engine can be a good choice for kids who start to ride a dirt bike for the first time. To advise by deciding the dirt bike for beginners, a 40CC kids dirt bike can be your first choice.
However, motocross is a physically demanding sport where riders need to keep their good physical state. Before making big turns and jumps, try to ride on a mini dirt bike to practice at first, especially for kids. Most successful motocross participants get started when they were kids. If you have enough budget, sending your kids to a motocross riding school is also a good idea.
Moreover, make sure to wear a helmet, goggles, neck race chest protector, gloves, and other protective gear to avoid injuries. Overall, it is most important to have fun and take precautions at the same time. 
---